Explaining Our Products
What standard of cleanliness do you need to achieve?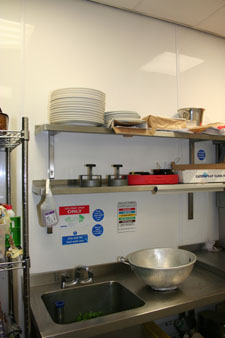 If you are looking to either build or refurbish areas such as:
Commercial kitchens
Schools
Care homes
Washrooms
Waiting rooms
Leisure centres
Hotels and restaurants
University residences
Laboratories and research areas
Advanced technology assembly
Cold rooms
These areas normally require the moderate level of hygienic protection offered by hygienic cladding. Areas that include more rigorous hygienic protection include:
Hospital operating theatres and ICUs
Dental surgeries
Specialised food production
Pharmaceutical processing
These areas require maximum protection against bacteria and viruses as offered by Sterile Cladding. We therefore recommend Stericlad a fully sterile cladding solution that combines state of the art chemical and biological nano-technology, manufactured in Germany by Rochling a leading engineering plastics manufacturer.